8 Instagram Worthy Coworking Spaces in NYC
Are you inspired by beautiful spaces and places? Working from gorgeous spots isn't just great for your Instagram feed — they're also amazing for bringing a touch of class, design, and ambition to elevate your day. With so many coworking spaces to choose from, we put together a list of the top spaces in the city with that WOW factor. The best thing about them is that they are available on weekdays to Croissant members!
Location: 97 N 10th St, 2nd Floor, Brooklyn, NY 11249 (Williamsburg)
The New Work Project, has been called one of the world's best designed workspaces. Black lacquer, marble countertops, white rugs, inspiration books, and natural wood give the space a simple yet luxurious feeling. It's located in the former Vice building and has been featured in design magazines and lifestyle publications internationally, including Elle Decor, Architectural Digest, Design Milk and Wallpaper*.
Location: 26 Broadway, 8th Floor, New York, NY 10004 (Financial District)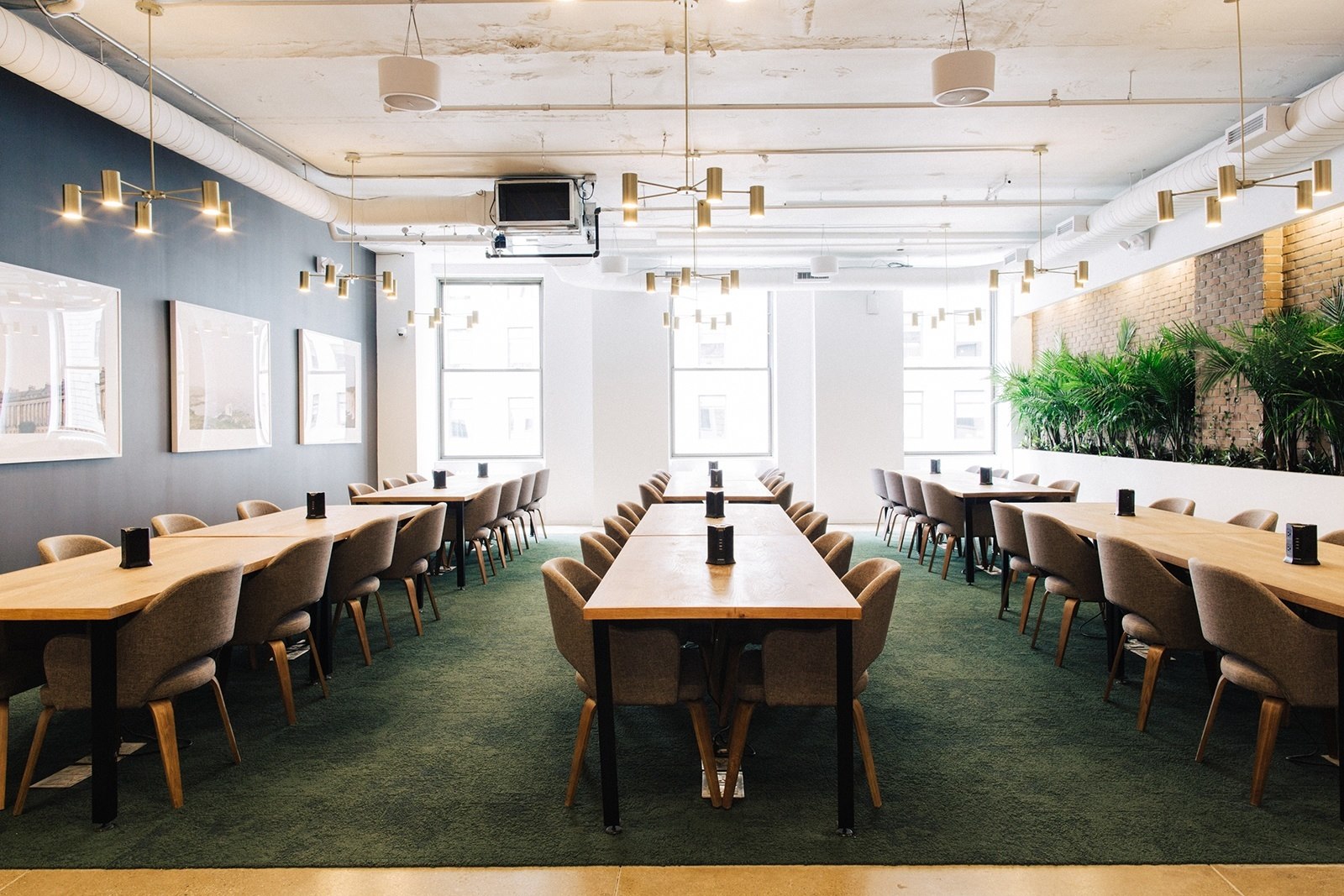 Primary in Financial District is the perfect blend of health, wellness, and productivity. The cafe area always has a buzz of light conversation and the smell of La Marzocco coffee. The space features custom designed furniture and beautiful photographic prints from Rich Stapleton, Creative Director of Cereal Magazine. And if you feel like taking an afternoon break for a yoga or meditation class, just head on over to the fitness studio.
Location: 135 Madison Ave, 8th Floor, New York, NY 10016 (NoMad)
Blender Workspace imbues sophistication and elegance, reminiscent of a boutique hotel. The 2,500 sq ft cafe area is a loft flooded with natural light and industrial accents. The decor includes low-slung Fogia sofas and Lawson-Fenning chairs, delightful tile accents, and custom light fixtures. Peek into the bathroom to see the jungle-inspired wallpaper from London-based company, Witch and Watchman.
Location: 55 Broadway, 3rd Floor, New York, NY 10006 (Financial District)
Much classier than your average coworking space, the newly renovated Bond Collective is warm and chic, while retaining a friendly entrepreneurial atmosphere. With custom designed furniture and luxe fabric, it's a mix of old world class and modern finishes. The coworking area is a spacious lounge and since it's a dog-friendly space, you may very well meet some cute new friends here.
Location: 185 Wythe Ave, 2nd Floor, Brooklyn, NY 11249 (Williamsburg)
Brass Factory is located in a 22,000 sq ft loft, spanning the length of an entire city block, that in earlier years was a former brass factory. The loft is flooded with natural sunlight and there are different types of seating to choose from for every work style, including high chairs, comfy couches, ball chairs, and Eames chairs. There's tons of wonderful green plants around the space, adding an extra sense of freshness.
Location: 402 Hooper St, New York, NY 11211, Brooklyn (Williamsburg)
Rough Draft - with its exposed brick, rustic pre-war storefront exterior, and polished concrete decor - is distinctly Brooklyn. The hip creative studio space is decorated with a simple and quirky style, and you'll encounter vintage posters, film cameras, board games, and wooden tabletops. Need a quick break from your work? Browse the library for some design inspiration!
Location: 43 W 23rd Street, 2nd Floor, New York, NY 10010 (Flatiron)
Rise is a beautiful Flatiron space backed by the famous bank Barclays. Designer Nina Isabella curated everything from the furniture to the small details, including the books on the shelves! Nina took to Barclay's English roots for inspiration, so you'll see some hints throughout the space. Our favorite part of the two-floor space is the cafe area, with its striped flooring and massive windows for natural light!
Location: 7 Marcus Garvey Boulevard, Brooklyn, NY 11206 (Bushwick) New York City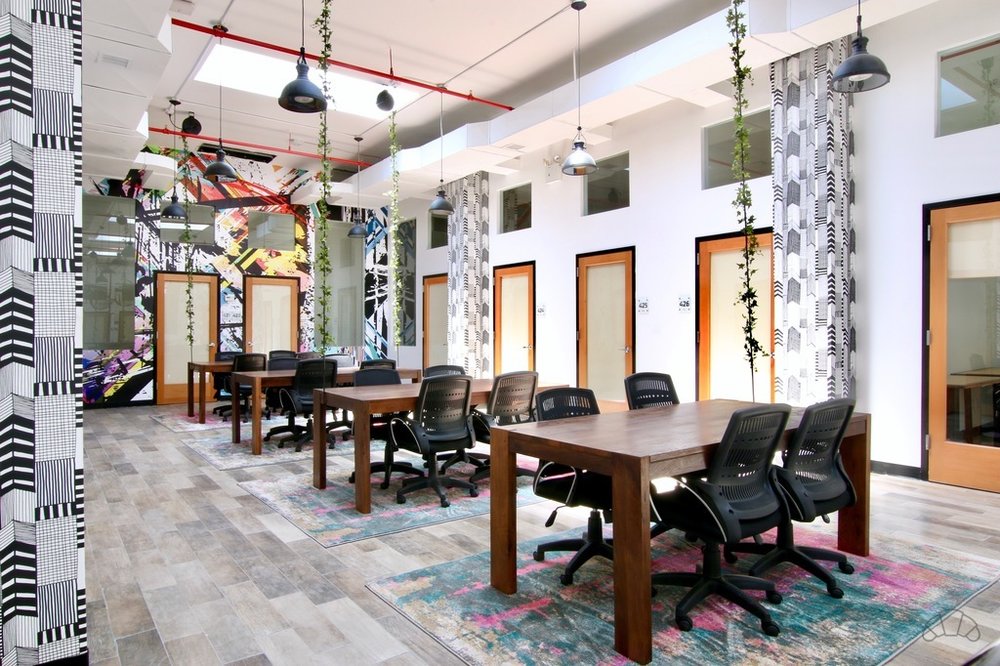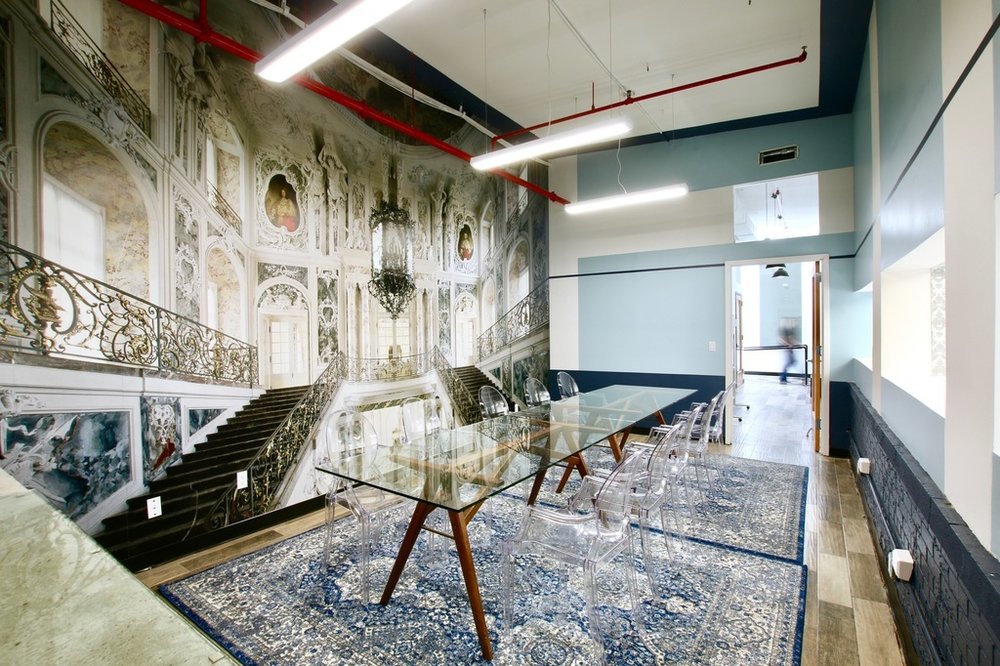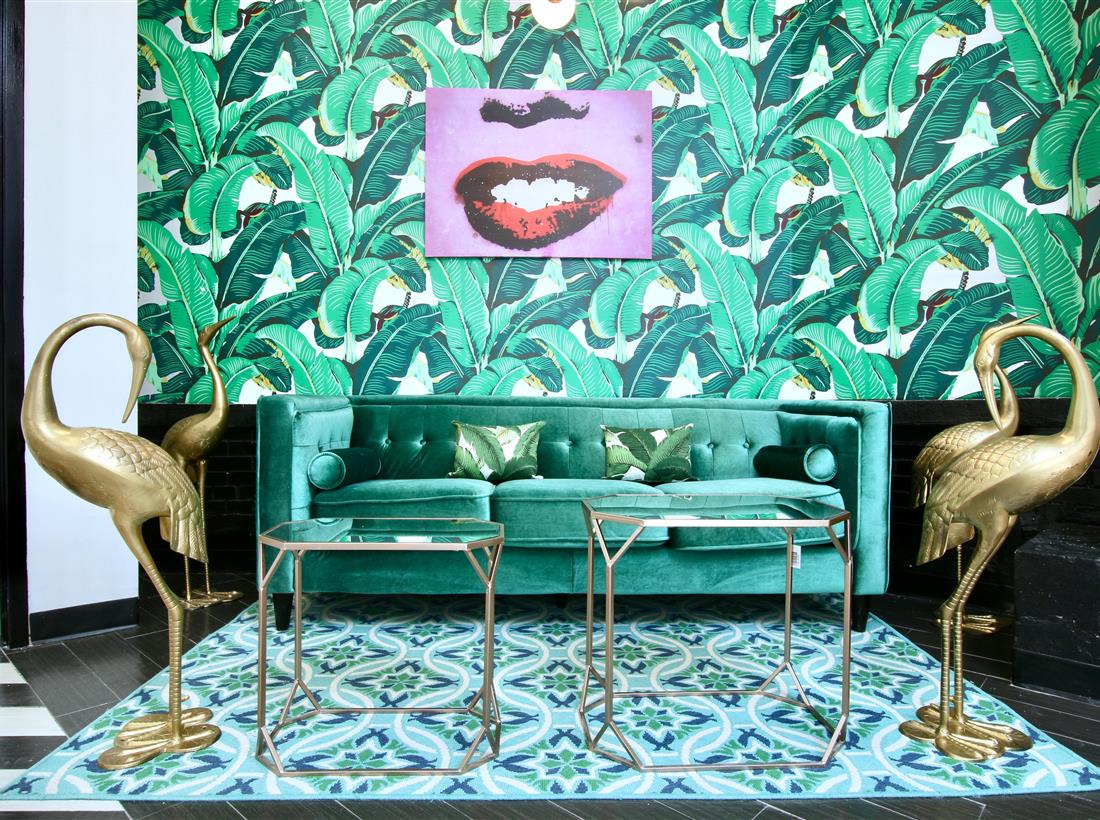 Bklyn Commons is a four-floor coworking space designed by Katie Vitale. The vibe and atmosphere changes from one room to another, providing an engaging atmosphere. The holographic wallpaper in the main stairwell reflects light and changes as you go though. The Biggie mural on the third floor is fun and bold. The funky green plant wallpaper in the lounge is perfect for Instagram. Discovering all the aesthetics of the space feels like a never-ending adventure

So don't be afraid to take a picture of your laptop, your latte, and that amazing marble countertop. These coworking spaces were made to be admired.